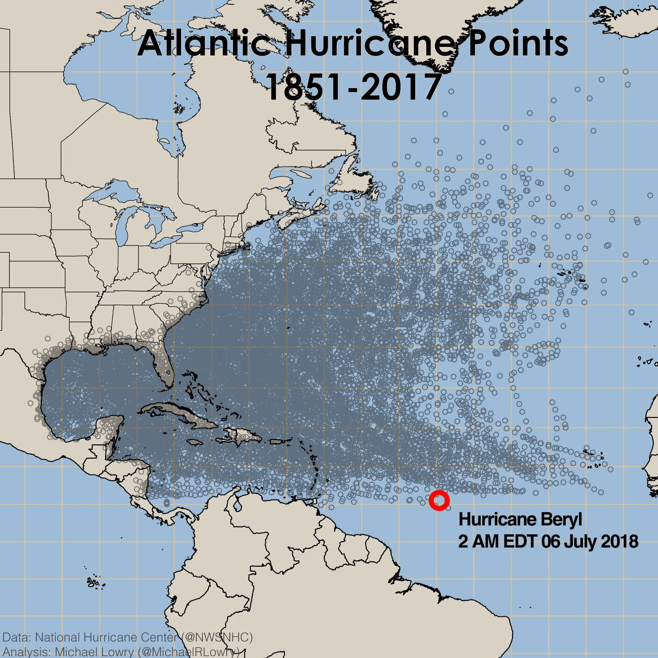 23 Jul

Be Prepared for the 2018 Hurricane Season

There is a 75% chance the 2018 Atlantic (and Pacific) hurricane season will be near- or above-normal, according to the National Oceanic and Atmospheric Administration.  The hurricane season lasts from June 1 to November 30.  Businesses and individuals alike should prepare for these weather events, especially those in Florida, North Carolina, Texas, Georgia, Louisiana, Alabama, South Carolina, and Mississippi.

Below is a graphic by Michael Lowry, a strategic planner at FEMA.  Based on decades (for the Atlantic, a century's worth) of data, it reflects all recorded tropical storms and hurricanes that tracked directly over each state.  The aforementioned eight states have historically suffered the most from these meteorological events.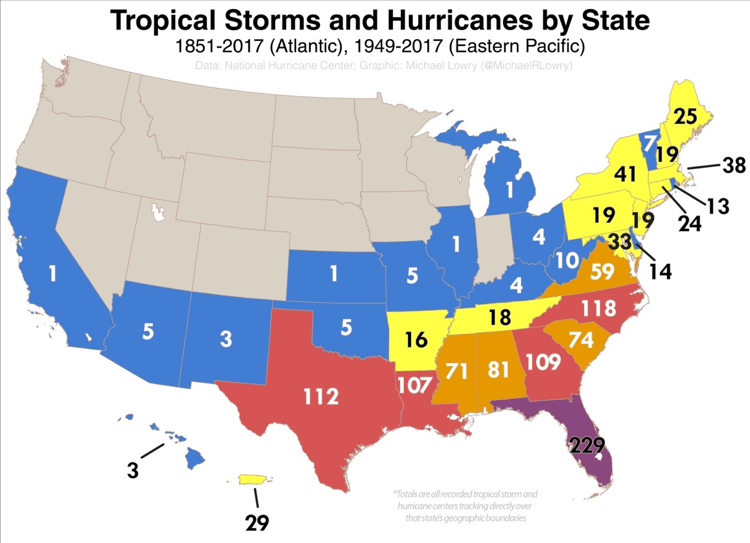 In fact, for the U.S., the locations that have the highest chances per year of experiencing a strike by a tropical storm or hurricane are the following:
Miami, Florida – 48% chance
Cape Hatteras, North Carolina – 48% chance
San Juan, Puerto Rico – 42% chance
(the probabilities decrease if considering only a hurricane, and further decrease for a major hurricane).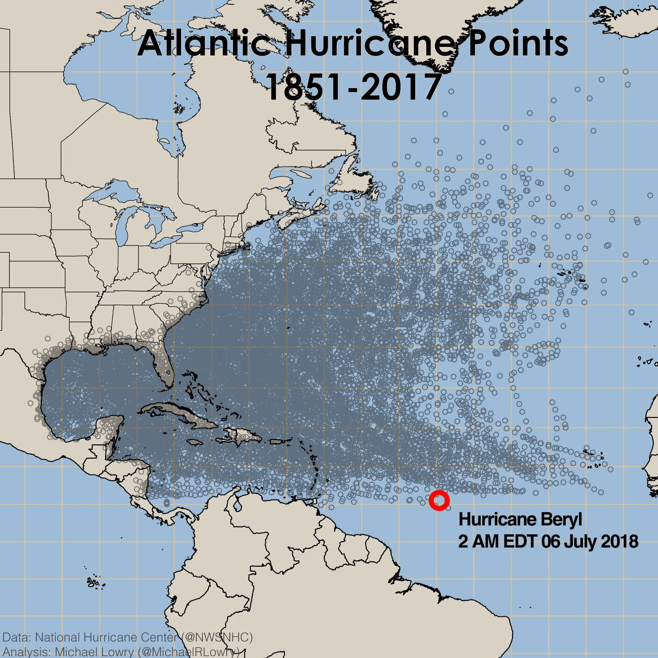 Hurricane Predictions for 2018
As of late May 2018, NOAA predicts 5 to 9 hurricanes (winds of 74 mph or higher), including 1 to 4 major hurricanes (category 3, 4 or 5; winds of 111 mph or higher).  An average hurricane season produces 6 hurricanes, including 3 major hurricanes.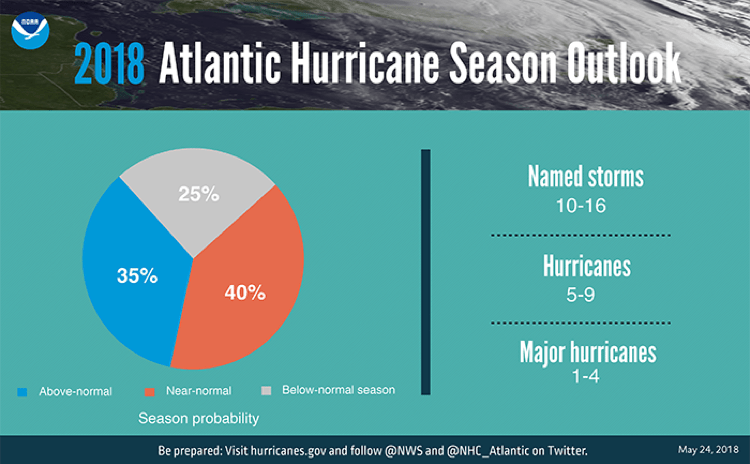 Even with a July 2, 2018, Atlantic seasonal forecast from Colorado State University's Department of Atmospheric Science that calls for a below-average hurricane season (4 hurricanes, 1 major hurricane), prudent planning is still required. See the graphic by CSU's Philip Klotzbach: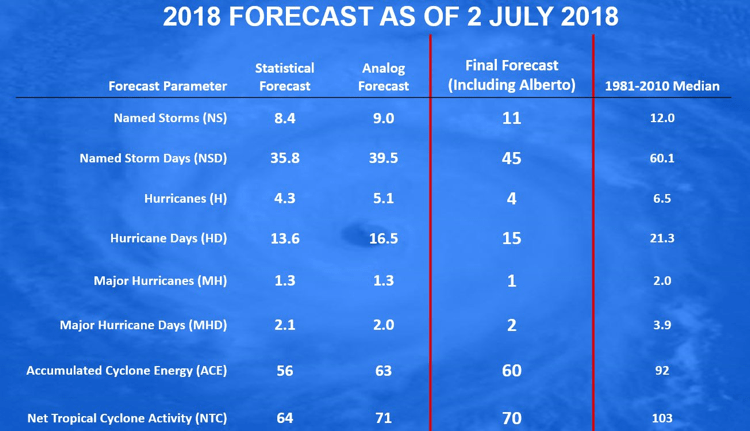 One reason for annual prudent planning is that the early months of the hurricane season are problematic for sufficient warning for these storms. June usually provides only 2 to 3 days of warning from hurricane formation to its landfall, while we can expect up to 9 days of lead time in September.  This limitation in forecasting technology, combined with the aforementioned historical data, shows that individuals and businesses in states like Florida, North Carolina, and Texas should be especially concerned in June and July.  However, hurricanes are most active in September.
2017 Hurricane Season
The 2017 hurricane season provides good examples of why individuals and business continuity/disaster preparedness personnel should take hurricane planning and preparation seriously.  In three weeks, hurricanes Harvey, Irma, and Maria caused extreme devastation in Texas, the U.S. Virgin Islands, Puerto Rico, and Florida as well as our neighbors in the Caribbean.  All three hurricanes were among the top five costliest hurricanes dating back to 1980 (adjusted for inflation).  They collectively caused $265 billion worth of destruction.  Hurricanes Harvey and Irma also caused 199 direct and indirect deaths and by some estimates, Hurricane Maria caused between 500+ and 4,600 fatalities (an official report on fatalities caused by Hurricane Maria, conducted by the Milken Institute School of Public Health at the George Washington University, is due this month).  The three hurricanes also affected significant portions of states' and territories' populations in their paths.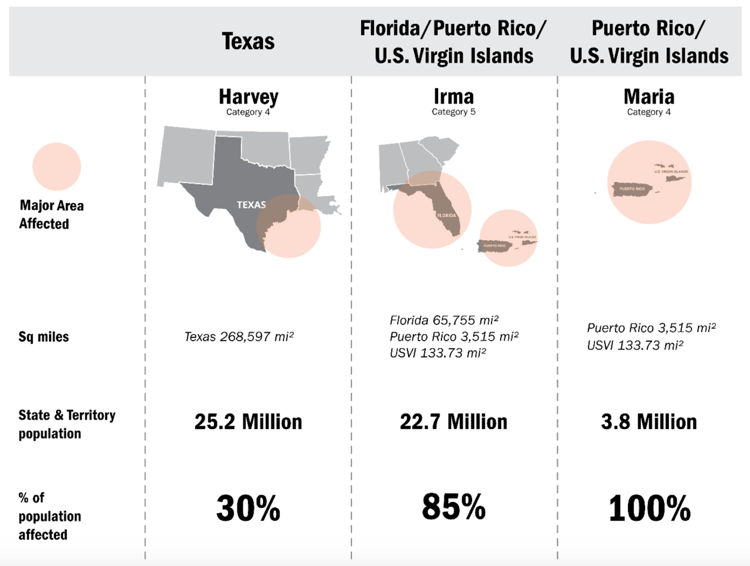 Hurricane Harvey, the second costliest hurricane in U.S. history (after Hurricane Katrina in 2005), dumped 5 feet of rain east of Houston — the most rain ever for a single storm in the U.S.  Flooding caused by Harvey also forced almost 800,000 Texans from their homes.  Hurricane Irma, which impacted 6 states, prompted the largest evacuation order in U.S. history — Florida jurisdictions ordered the evacuations of nearly 7 million residents.  Hurricane Maria was the first category 4 storm to make landfall on Puerto Rico in 85 years and caused seven months of outages to the territory's power grid.
Preparation & Preparedness
Know your area's risk of hurricanes. Local, state, FEMA, and other resources can be of assistance. For companies, a holistic enterprise security risk assessment should also assess hurricane (and other natural disaster) risk.
Strongly consider flood insurance and review the insurance each hurricane season. A whopping 80% of households impacted by Hurricane Harvey did not have flood insurance, according to FEMA.  Similarly, 80 percent of residents impacted by Superstorm Sandy in New York in 2012 did not have flood insurance.  Companies also failed to have any risk transfer measures for floods during Sandy; a startling 90% of small businesses did not have flood insurance.
Practice going to a safe shelter for high winds, such as a FEMA safe room or International Code Council (ICC) 500 (Standard for the Design and Construction of Storm Shelters) storm shelter. The next best protection is a small, interior, windowless room in a sturdy building on the lowest level that is not subject to flooding.
Make plans for evacuating — to include going to another state — and sheltering in place.
Become familiar with your evacuation zone and evacuation route.
Ensure you have needed supplies, to include medication and your pets' requirements, for at least three days.
Keep important documents in a safe place or create password-protected digital copies.
Feel free to schedule a free phone consult below:
[ameliabooking]